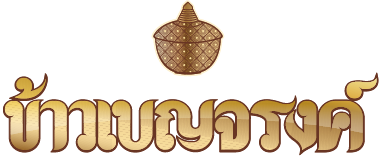 Do you know? There are many types of rice we consume everyday. Some of us may be able consume every type as they are not quite concerned about the quality. Some may select to consume only the healthy one such as brown rice, etc. Also, there are some who are punctilious in the taste selected from the appearance of the seed -- what shape, color, and length it is -- to what smell it has to its mildness. Yet, apart from the quality of the rice that we consume daily, the age of the seed -- old or new -- is one of our choices too since both of them share many features.
Today, Benjarong would like to suggest how to distinguish between the new rice and the old rice -- what their differences are and what menu they will fit for.

New rice is newly-harvested and recently-milled, so the seed is transparent and is still attached by a tiny amount of rice germ. It is easy to break by our fingers and has a good smell. Its color is whole-transparent. In some breeds, the seed has a bent bottom like a sword. The water after rinsing is pretty clear. When it is done cooking, the new rice is a little bit fluffy, tastes sweet, and has a pleasant scent. Also, the seed sticks to each other and balls up. It is rather soaked but has more pleasant smell than the old rice as it contains a lot of rice mucus. The new rice suits for making soft-boiled rice and porridge because its mucus smoothens the seed and makes each seed become adhesive.

Old rice is rice which is stored over a year or is milled after harvested 4-6 months. The seed is opaque and has tiny cracks. When we wash it, the rinsing water is opaque and we will see broken parts afloat. After cooking, the old rice is well fluffy. The seed is harder than the new rice and does not stick to each other as it contains a tiny amount of rice mucus. Old rice can go along with Thai dishes such as boiled, stir-fried, curried, and fried-rice menus.
Dr. Chao Intraprasert, the food engineer of Kasetsart University, gives an opinion that to choose rice seed for perfect cooking, firstly, we need to know the purpose of it, for example, if you want to sell curry and rice or fried rice, old rice is a perfect choice as it is hard, crumbly, and fluffy. Restaurants normally use this type and Europeans also like it. In contrast, Asians who use chopsticks, such as Chinese, Hongkongers, Japanese, prefer mild rice -- new rice -- especially jasmine rice as it is viscous and mild because of the rice mucus between each seed.
So, you should try to ask your family member what type of rice they prefer to eat then choose to buy the perfect one -- for the perfect meal than ever before.